Kiddie Korral
Children's activity area features 2 small slides exiting directly into the pool with a zero depth entry and small interactive play structures. Perfect for the tiniest of greenhorns! Noah loved this area. The was a water toy feature were you open doors to let water go thru a trough and my son was enthralled with it. He played with it for the longest time and multiple times!
Rascal Round Up
40-foot tall interactive water play structure set in the middle of Fort Rapids Waterpark. Children can shoot at their friends with a water cannon or slide down one of 4 slides. Watch out! The tipping bucket will fill and dump over 1,000 gallons of water throughout the hour (you can see the bucket dumping above). You must be 40inches to take a ride down these slides. My son loved that he could ride and play here alone. I walked around with him, or waited at the base of the slides, he loved slip sliding adventure down the all the slides they were excited to try them all. When my daughter needed a brake from the big slides, she came back over to Rascal Round Up to hang with her brother!
Cowboy Creek- 40" Height Requirement
The choice is yours! Choose your route and go under the tumble buckets or float over the mini rapids. Hold on tight! As you round the last corner the waves will push you gently to the exit. Unfortunately one area of this was closed while were were here, but we still enjoyed riding the waves!
Activity Pool
Always buzzing with fun, this 4 ft. deep pool features 5 basketball hoops, snake and raft floats and the Perilous Promenade. My son and daughter loved this area, they practiced their swimming skills, played basketball and played with other children!
30-person Hot Tub
Reserved for our guests 18 years and older.
Ambush Alley and Raging Bull- 48" Height Requirement
Tube slides poke out the side of the building and back in, dipping and looping then landing in a splash of water.
Black Out Pass- 48" Height Requirement
It will have your head spinning! Enter this slide at the top of the tower, pop outside for a quick turn then enter into the funnel - spinning 'round and 'round until you are shot out into the lazy river. My daughter and spouse did this one! Then my daughter went down the "toliet bowl" on her own after! At the base of each slide is a life guard. I stood by and watched and waited and down came my little lady, but at one point the tube came first and her second. The fast acting guard scooped her up and placed her back into the tube. She wasn't fazed!
Shoot Out Racer- 42" Height Requirement
Race your friends to victory! Grab your mat, lay down on your stomach, and away you go, face first. Your ride will take you outside the building for a second and back in, gaining speed for your race downhill.
Other aspects of Fort Rapids is they have a the Branding Iron Grille, a bar, gift. One shop and a cafe in the water park area. We grabbed an order of funnel cake fries and they were amazing. Prices were reasonable at the cafe and restaurant, but since we had a fridge in our room, we just hit a grocery store and picked up lunch food and ate in our room!
The game room was always hopping and the kids had a blast in there trying their luck, playing games and redeeming tickets. In the hallway was a couple of claw machines, which hubby won a Cleveland Browns Bear on the first time! Also a photo booth and a chicken laying egg machine, which laid balls! Of course each kid had to try and get a ball!
We had a blast at Fort Rapids, would we recommend it? YES!!!! Will we be going back? YES!!! You know your kids are having fun when you see the smiles plastered on their faces. My son, got tired half way thru the day and even asked to take a nap! With the weather cooling off, take the family somewhere warm in your own back yard. You enter the water park, feel the heat and forget about the rain or cool temps! Whether you just get a day pass to the water park or make it a mini vacation by staying there, it is well worth the money. We have talked and this will be out go to fall/winter vacation with the kids.
Your kids will love it, you will love it... it is a win, win situation! Just be prepared to be pooped out!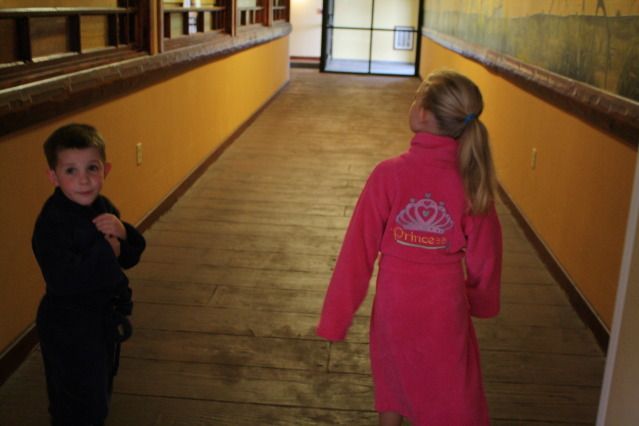 I brought the kid robes, their towels fall off, so they could keep warm and dry!
Disclosure of Material Connection: I received a nights stay for free in the hope that I would mention it on my blog. Regardless, I only recommend products or services I use personally and believe will be good for my readers. I am disclosing this in accordance with the Federal Trade Commission's 16 CFR, Part 255: "Guides Concerning the Use of Endorsements and Testimonials in Advertising.